The Seminar w/ Cyndy Hayashi was a great success.  Thanks to everyone who came out to support our innagural effort and of course, special thanks to our guest instructor Cyndy Hayashi Sensei.
Please continue to check our site for updates for new seminar / class opportunities at the Aikido & Healing Arts Center.  Best wishes to all.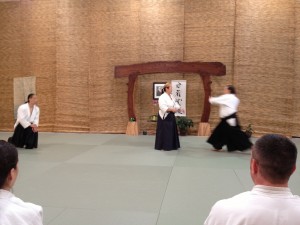 The Aikido & Healing Arts Center of Roseville is delighted to announce that we are hosting Cyndy Hayashi Sensei of Aikido West, 6th Dan, for a Self Defense Seminar for adults and teens on August 4 (Sun) — 11:30 AM – roughly 2:00 PM.  Hayashi Sensei has been on the Montel Williams Show as well as the Women's Channel discussing her own personal experiences fighting off attackers.  Her seminar promises to be a fun, educational class that provides practical advice and learnings regardless of one's background in Aikido.
Please consider signing up quickly as the Center is targeting a limited audience of 35 participants.  Use the eventbot link above to register and pre-pay for our event.  We will post updates to space availability on our Facebook, Twitter, and Google + feeds leading up to the event.
Additionally, please fill out a Liability Waiver before attending.
As an additional bonus: Aikidoka, Hayashi Sensei has also generously offered to teach our Sunday morning class on August 4th, as well, running from 9:00 – 10:30 AM.  The fee for this special class is $10.  While non-members of the Aikido & Healing Arts Center are welcome to join us; the standard $15 mat fee for non-members also applies.  Those visiting Aikidoka who will be participating in both the morning class and the Self Defense Seminar will have their mat fee for this class waived, though further donations are always welcome.  If we don't have one on record already, please fill out a Liability Waiver before attending.
We look forwards to seeing you all.