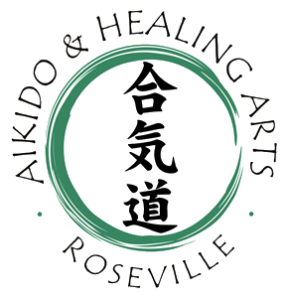 Starting on October 7th, 2013, the Aikido & Healing Arts Center of Roseville will be hosting a weekly series of classes with Guest Instructors Dan Messisco and Geoff Yudien Senseis every Monday.  These classes will be run as two, one hour sessions running from 5:30 PM to 7:30 PM and should be an excellent opportunity to gain new perspectives on aikido technique, training, and philosophy regardless of level.
Messisco Sensei, 6th Dan in the Aikido Schools of Ueshiba under Mitsugi Saotome Shihan, was a special guest instructor at the dojo in mid-September and was able to provide valuable advice and perspective on training.  He currently lives in the Davis area and travels extensively throughout the world to teach aikido seminars and for personal training.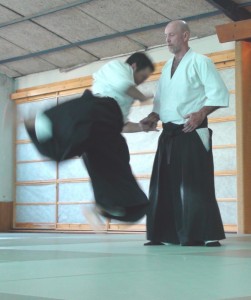 Yudien Sensei is the co-dojo cho at Two Rivers Budo, a sister California Aikido Association Division 2 school based in Sacramento, California.  Geoff has over 30 years of training in aikido and travels extensively to further develop his art.

Many thanks to both Messisco and Yudien Senseis for this opportunity to train with them on a semi-regular basis.  The Center is immensely pleased to be able to offer this resource to our aikido community and we look forward to further collaboration with our good friends in the CAA, the Two Rivers Budo dojo, as well as our larger assocation of fellow aikidoka in the Sacramento / Central California area.
In order to accomodate this series, Gordon Binz's Monday class will be shifting to Wednesdays where he and Kemper Sensei will be sharing teaching duties for the Wednesday evening (6:15 PM) class, subject to Gordon's available schedule.  Weapons class will be temporarily cancelled, though the Center is exploring new time slots to fill this, as well as other potential needs for our aikidoka community.  Kemper Sensei's Friday evening and Saturday morning, as well all our other classes, will continue to be taught on the same schedule.
If you have any questions, please contact the dojo at community@rosevilleaikidocenter.com.